W8IO Rooftowers LLC
(updated 17 March 2020)
We will resume taking tower orders March 30.

---
W8IO Ham Roof Towers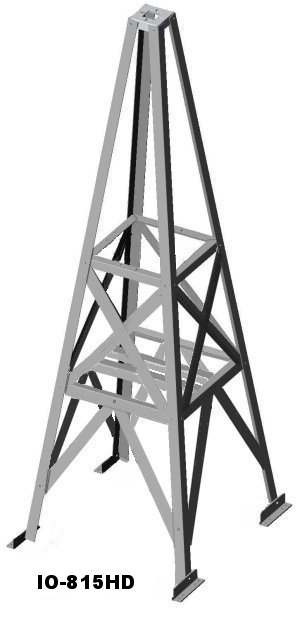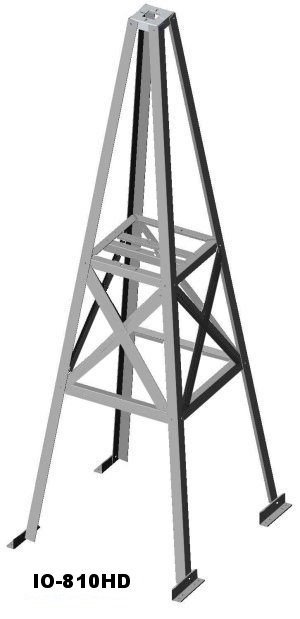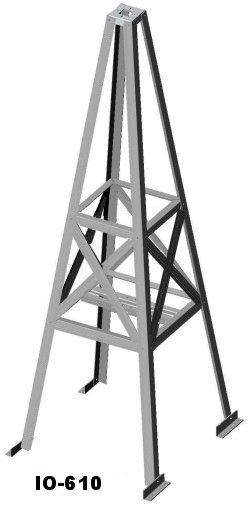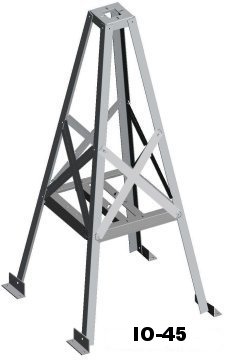 Model IO-815HD Models IO-810 and IO-810HD Model IO-610 and IO-610HD Model IO-45HD, IO-45 and IO-45LT
Click on the model number for more information

---
REVIEWS/REFERENCES:

See the product reviews on eHam.com or I can provide additional references on request. Please check out the QRZ pages for K8DIL, K2VI and W6RKE for photos.


NEW

! YouTube video of IO-45 roof tower assembly and K4KIO Spiderbeam by Cal McKitrick AI6MC.



W8IO Ham roof towers have been shipped to and are in use in these cities:



Camano Island, Washington
Federal Way, Washington
Moses Lake, Washington
Enumclaw, Washington
Tacoma, Washington
Corvallis, Oregon
Portland, Oregon
Califonia City, California
Lakewood, California
Sacramento, California
Sierra Madre, California
Tracy, California
Livermore, California
Grass Valley, California
Santa Fe, New Mexico
Kingman, Arizona

Edina, Minnesota
Chisago City, Minnesota
Elk Grove Village, Illinois
Elgin, Illinois
Algonquin, Illinois
Glen Carbon, Illinois
Frederick, Colorado
Boulder, Colorado
Arvada, Colorado
Aurora, Colorado
Oak Park, Michigan
Hot Springs Village, Arkansas
Liberty, Missouri
Sandy, Utah
North Salt Lake, Utah
Omaha, Nebraska

Painesville, Ohio
Virginia Beach, Virginia
Cheverly, Maryland
Logansville, Georgia
Decatur, Alabama
Port Richey, Florida
Fort Pierce, Florida
Wappingers Falls, New York
Staatsburg, New York
Rochester, New York
Havertown, Pennsylvania
Export, Pennsylvania
Covington Twp., Pennsylvania
Woodbridge, Ontario, Canada
---
TOWER KIT DESCRIPTIONS:





Full Tower Kit

includes cut and drilled 6061 aluminum parts and stainless steel assembly hardware. The assembly and installation manual can be downloaded from this web site. Mounting bolts are not included.



Custom and Semi-Custom Tower Kits

If you have a roof top tower requirement that isn't shown, please drop me a note and I will see if I can make it. I can upgrade the ability of the non-HD towers to handle heavier antennas by increasing the rotor bracket and shelf wall thickness.

It has become very expensive to ship the 8 foot tall roof towers! If you can buy the 8 foot tower legs locally and drill the holes, I can cut, drill and ship you the shorter parts at a reasonable cost. 6061-T6 aluminum angle can be purchased through OnlineMetals. They have warehouse locations in Toledo, OH; Wallingford, CT; Atlanta, GA; Dallas, TX; Los Angeles, CA and Seattle, WA. Speedy Metals has warehouse locations in Milwaukee, WI; Appleton, WI; Rockford, IL; Fraser, MI. Zoro has 6061 aluminum angles and orders over $50 ship free!



DIY Tower Plans

include instructions for cutting and drilling all aluminum parts. The full instructions are downloaded from this web site, and the password to unlock the instructions is emailed to you on request. The assembly and installation manual can be downloaded from this web site. Assembly and mounting hardware are not included.


---

THRUST BEARINGS:

My towers are designed to work with a thrust bearing mounted on the top. I recommend the Yaesu GS-065, which will handle up to a 2.5 inch diameter mast. You could also use the Yaesu GS-050 thrust bearing, however this will only allow masts up to 2.0 inches OD.

You can save money on shipping by purchasing your thrust bearing locally, either new or used.

If you plan to use the GS-050, please tell me so I can drill the mounting holes for this bearing. If you want all tower parts to arrive at the same time, I can purchase the bearing and include it with the tower shipment (use the -065 or -050 option).
---
Warranty

W8IO Rooftowers LLC warrants all its roof-tower products for 90 days after shipment. If any W8IO Rooftower fails to give the purchaser complete satisfaction within 90 days of shipment, we will replace any component of the Rooftower free of charge. W8IO Rooftowers LLC will not be liable for loss or damage to property or incidental or consequential loss or expense from property damage due directly or indirectly from the use of this product.


---
WHO IS W8IO?
Follow this link to find out: W8IO
---
Wind Area:

Calculations for the IO-810 roof tower.
---
Helpful References:
"Match your Antenna to your Tower", Roger Cox WB0DGF, Ham Radio Magazine, June 1984
"Practical Application of Wind-Load Standards to Yagi Antennas: Part 1", Stuart E. Bonney K5PB, QEX Jan/Feb 1999, pp 46-50
"Practical Application of Wind-Load Standards to Yagi Antennas: Part 2", Stuart E. Bonney K5PB, QEX Mar/Apr 1999, pp 44-49
"Tower and Antenna Wind Loading as a Function of Height", Frank Javanty W9JCC, QEX July/August 2001, pp 23-33
"Tower Tips" a compilation of many tower tips from various authors
How to Strengthen your Roof with Collar Ties
The Mathmatics of Rafter and Collar Ties
---
contact Roger: email to
RGCOX2 (at) GMAIL.COM
Roger Cox, W8IO (ex-WB0DGF) - Spring Lake, MI 49456
mirror websites: w8io.com and wb0dgf.com