W8IO Rooftowers LLC
(updated 10 Oct 2023)
Due to health issues of both my wife and me, I will no longer be taking tower orders. We will, however, supply small replacement parts as necessary.
---
W8IO Ham Roof Towers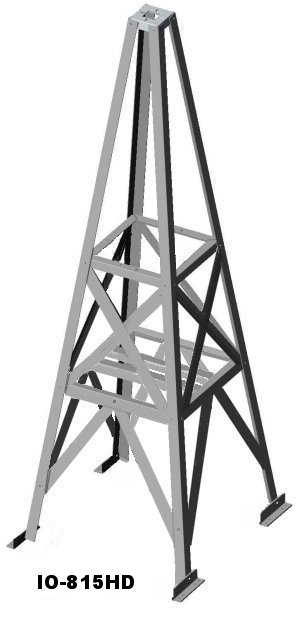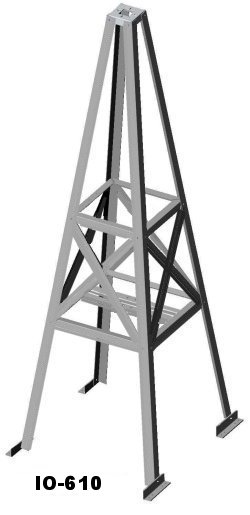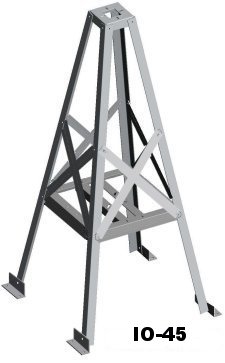 Model IO-815HD Models IO-810 and IO-810HD Model IO-610 and IO-610HD Model IO-45HD, IO-45 and IO-45LT
Click on the model number for more information

---
REVIEWS/REFERENCES:

See the product reviews on eHam.com or I can provide additional references on request. Please check out the QRZ pages for K8DIL, K2VI and W6RKE for photos.


NEW

! YouTube video of IO-45 roof tower assembly and K4KIO Spiderbeam by Cal McKitrick AI6MC.



---
TOWER KIT DESCRIPTIONS:





DIY Tower Plans

include instructions for cutting and drilling all aluminum parts. The full instructions are downloaded from this web site, and the password to unlock the instructions is emailed to you on request. The assembly and installation manual can be downloaded from this web site. Assembly and mounting hardware are not included.


---

THRUST BEARINGS:

My towers are designed to work with a thrust bearing mounted on the top. I recommend the Yaesu GS-065, which will handle up to a 2.5 inch diameter mast. You could also use the Yaesu GS-050 thrust bearing, however this will only allow masts up to 2.0 inches OD.
---
Warranty

W8IO Rooftowers LLC warrants all its roof-tower products for 90 days after shipment. If any W8IO Rooftower fails to give the purchaser complete satisfaction within 90 days of shipment, we will replace any component of the Rooftower free of charge. W8IO Rooftowers LLC will not be liable for loss or damage to property or incidental or consequential loss or expense from property damage due directly or indirectly from the use of this product.


---
WHO IS W8IO?
Follow this link to find out: W8IO
---
Wind Area:

Calculations for the IO-810 roof tower.
---
Helpful References:
"Match your Antenna to your Tower", Roger Cox WB0DGF, Ham Radio Magazine, June 1984
"Practical Application of Wind-Load Standards to Yagi Antennas: Part 1", Stuart E. Bonney K5PB, QEX Jan/Feb 1999, pp 46-50
"Practical Application of Wind-Load Standards to Yagi Antennas: Part 2", Stuart E. Bonney K5PB, QEX Mar/Apr 1999, pp 44-49
"Tower and Antenna Wind Loading as a Function of Height", Frank Javanty W9JCC, QEX July/August 2001, pp 23-33
"Tower Tips" a compilation of many tower tips from various authors
How to Strengthen your Roof with Collar Ties
The Mathmatics of Rafter and Collar Ties
---
contact Roger: email to
RGCOX2 (at) GMAIL.COM
Roger Cox, W8IO (ex-WB0DGF) - Spring Lake, MI 49456
mirror websites: w8io.com and wb0dgf.com